Mechanical Concrete Trowels - Ride on Features
Lifting points are built into the machine for balanced lifting.
Spider Assemblies can be economically rebuilt and feature long lasting wear plates and hubs.
Retardant spray system is actuated by controls located on the steering handles for uniform coverage of the slab surface.
LED lighting provides state of the art illumination for night time or indoor work.
Operator is able to completely view the finishing surface through the frame.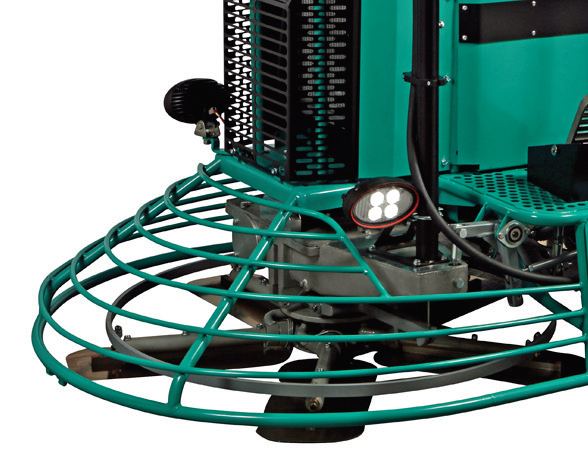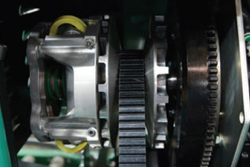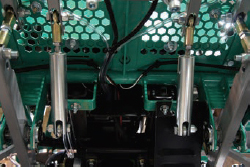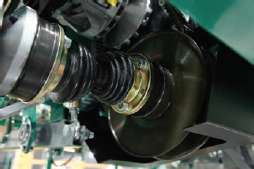 Mechanical Concrete Trowels - EHHNK5
Powerful 35 HP diesel engine from Kohler delivers the high torque needed for panning while having the high rotor speed needed for finishing.
Continuously Variable Transmission (CVT) provides superior performance by constantly adjusting the drive ratio to obtain torque and speed during all phases of finishing from low speed torque to high speed burnishing.
Helical Gearboxes offer the industries' most efficient, coolest-running, trouble-free design on the market today. This helical gearbox system is backed with a three-year warranty.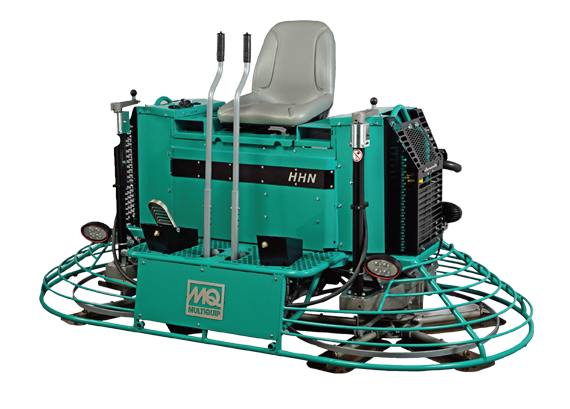 Mechanical Concrete Trowels - HHNG5
Power is supplied by a 35-HP Air Cooled Gasoline engine that spins twin five-blade rotors to a top speed of 180 RPM.
26 Litre petrol tank allows for long run times.
Servicing is made easy by a frame design that allows quick access to fill ports and filters.
Rugged frame is made of chromemoly steel to withstand the rigors of handling and transportation.
High-performance engines withstand the rigors of concrete finishing.
Helical gearbox design is 33% more efficient than worm drive designs resulting in cooler operating temperatures and longer service life.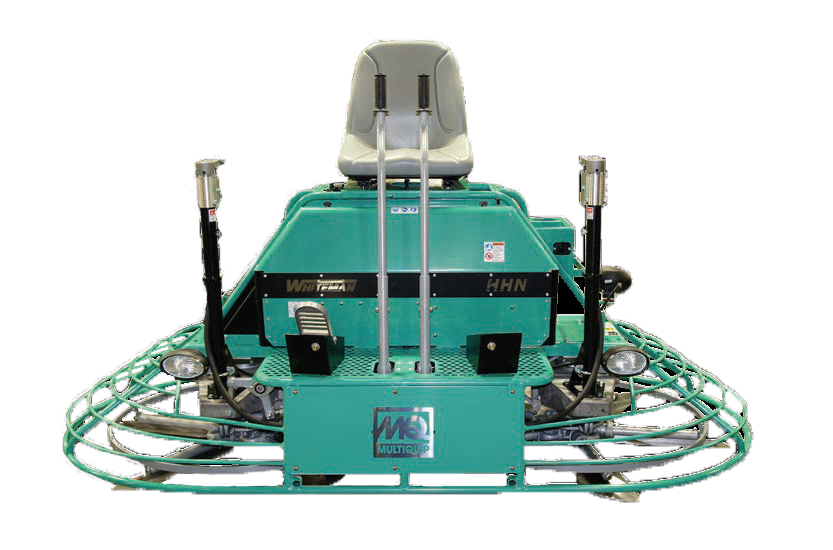 Mechanical Concrete Trowels - HTN27
The entry level 46″ mechanical model is available with a 27HP Kohler carburetted engine. Suitable for panning, small areas this machine comes with twin 4-blade spiders. The HTN27 comes standard with all features you expect from a Whiteman ride-on trowel.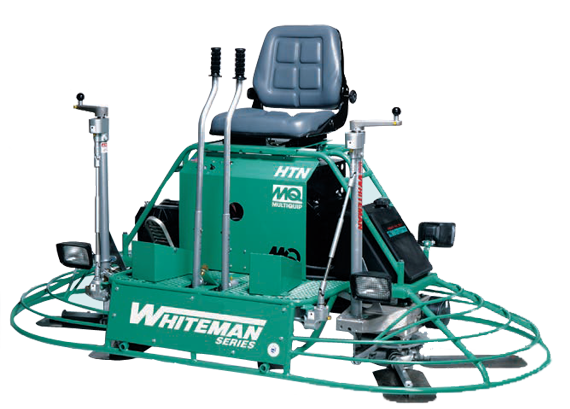 Mechanical Concrete Trowels - JWN24
This versatile 36″ machine is ideal for jobs up to 600sqm. Its lightweight design is ideal for high rise (as it can fit in elevators) and enables contractors to get on the slab faster. The JWN is equipped with heavy-duty gearboxes suitable for panning and a continuous variable transmission that delivers a lightning fast rotor speed of 180 RPM.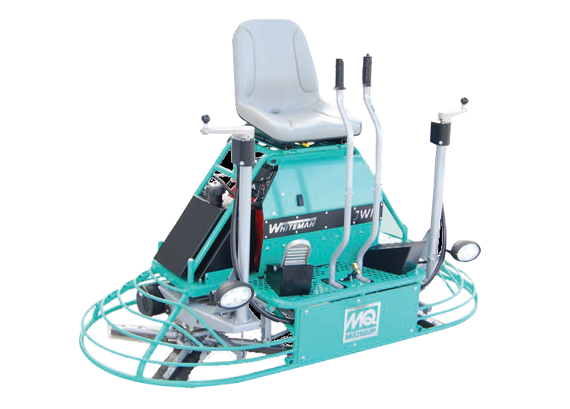 Warranty 
HTN/JWN Series Ride-on Mechanical Power Trowels-1 year parts and labour.
HTN/JWN-SERIES Worm Drive Gearbox-2 years parts and labour.
Engine converted by manufacturer's warranty. See Multiquip terms for full details.
Model
Engine
HP

(kw)

Engine Cooling
Path Width in.(cm)
LxWxH in.(cm)
Rotor RPM
Blades Per Rotor
Steering Type
Run Time gal./hr. (Itr/hr)
Fuel Tank Capacity gal (Itr)
Operating Weight lb.(kg)
Wheel kit*

Twin 48″ Non-Overlaping

EHHNK5
Kohler KDW1404
35 (26)
Liquid
92

(233)

95x48x59

(241x122x149)

0-180
5
Spring Assist Mechanical
7

(26.4)

1403

(636.39)

EMR2 or EMR3
HHNG5
Vanguard
35
Air
92

(233)

95x48x59

(241x122x149)

0-180
5
Spring Assist Mechanical
2

(7.57)

7

(26)

1083

(491)

EMR2 or EMR3
HTN27KTCSL
Kohler
25
Air
91

(231)

95x48x46

(241x122x117)

40-140
4
Spring Assist Mechanical
2

(7.57)

4.4

(17)

780

(354)

EMR2

Twin 36″ Non-Overlaping

JWN24HTCSL
Honda
24
Air
75

(191)

77x39x48

(196x99x122)

40-180
4
Spring Assist Mechanical
1.71

(6.47)

4.4

(17)

685

(209)

EMR2