HYDRO-STEER TROWELS - HHXDF5
Powerful 31 HP gasoline-LPG engine from Kubota delivers the high torque needed for panning while having the high rotor speed needed for finishing.
Clam Shell Designs simplifies maintenance and offers the convenient access to all serviceable components.
Continuously Variable Transmission (CVT) provides superior performance by constantly adjusting the drive ratio to obtain torque and speed during all phases of finishing from low speed torque to high speed burnishing.
LED Lighting provides state of the art illumination for night time or indoor work.
Helical Gearboxes offer the industries' most efficient, coolest running trouble-free design on the market today.
12 Volt Outlet for charging your cell phone.
Proportional hydraulic steering offers improved responsiveness with minimal effort on the part of the operator.
LPG/Gasoline Option allows the operator to change from gasoline to LP at the touch of a switch.
Spider Assemblies can be economically rebuilt and feature long lasting wear plates and spider hubs. Standard model comes with 5 blade configurations. Available in 4 blade configurations upon request.
Twin Pitch Control enables the operator to simultaneously control the pitch of both rotors with minimal effort while also allowing the individual pitch adjustment of each set of rotors.
Large Capacity Gasoline Tank holds up to 37 Litres.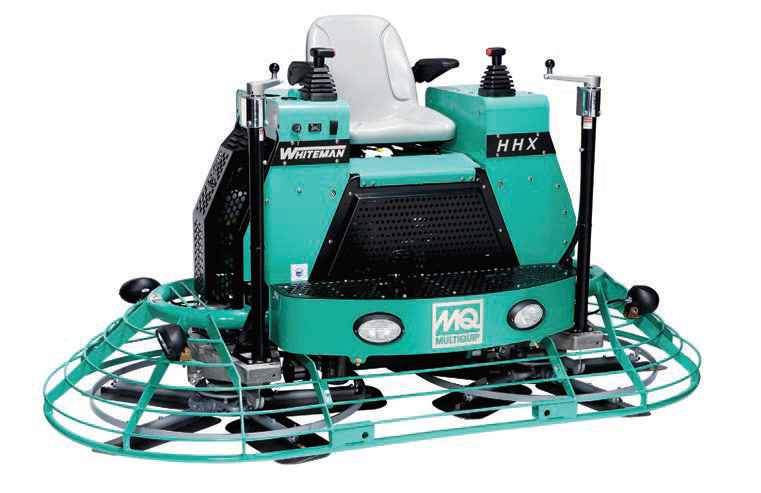 HYDRO-STEER TROWELS - Specification
Model

Engine

Hp

Engine cooling

Path Width in (cm)

LxWxH in (cm)

Rotor RPM

Blades Per Rotor

Steering Type

Run time gal./hr.(ltr/hr)

Fuel Tank Capacity gal (ltr)

Operating Weight

Wheel kit*

Twin 48″ Non-overlapping

HHXDF5
Kubota
31
Liquid
92 (233)
95x48x59

(241x122x149)

0-180
5
Proportional Hydraulic
2.3

(8.70)

10

(37.85)

1654

(750.24)

EMR2 OR EMR3